CTFO Excellence for Consumers


Top-Grade Quality
Third-party Laboratory testing reports are available on the website under "Documentation" to all visitors.


All CTFO products are manufactured in GMP certified facilities. This means that they're regulated by the FDA to ensure that the content matches the label.


Cannabinoids used by CTFO in their products derived from Industrial Hemp organically grown and processed in the United States


CTFO offers a 60-day, empty container, money-back guarantee to prove their confidence in the highest quality of their products and purity of the constituents.

Variety: Over 80 products and counting…

CBD Isolate oil drops (pure CBD extract, 0% THC); available in two strengths


Full Spectrum CBD oil drops (less than 0.3% THC)


10xPure™ Full Spectrum CBD oil drops (hydrophilic, rich in CBDa, less than 0.3% THC)


10xPure™ Roll-On, Muscle & Joint Relief


10xPure™ Ultimate Multi-Vitamins


CBD pain relief creams


CBD Oral Sprays formulated for specific wellness issues: pain relief, sleep support, energy boost, anti-stress and relaxation, weight loss


CBD capsules


CBD gummies


CBD Pet Products: oral spray, chew treats, conditioning shampoo


CBD skincare products: cleanser, toner, moisturizers, facial mask, anti-aging creams, instant wrinkle remover, sun care creams, and more.


CBD Massage Oil


CBD Bath Bombs


CBD Hair Growth System with AnaGain


Non-CBD ExtremeShake with Sensoril® Ashwagandha Keto-Friendly formula


Non-CBD KetoCreamer


Non-CBD Health and Nutrition for weight loss


Non-CBD skincare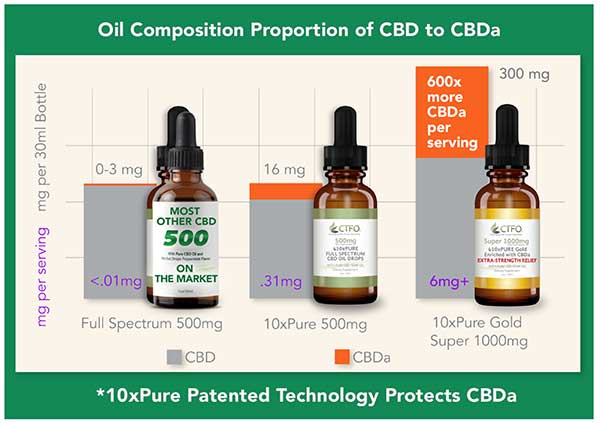 Innovation
10xPure™ hydrophilic Full Spectrum 500mg and 1500mg CBD oil drops enriched in CBDa


10xPure™ Gold Super 1000 – hydrophilic full spectrum CBD/CBDa oil drops specifically formulated for extra strength pain and inflammation relief.


10xPure™ Ultimate Multi-Vitamins


10xPure™ Roll-On, Muscle & Joint Relief

Watch Dr. Steven Trobiani, Board Certified Neurologist explaining CBDa role in Pain Relief and why 10x Pure Gold Super 1000 is the best product on the market:
Prices
Customers, who prefer to stay anonymous and shop with a guest account are offered Retail Prices, which are affordable and competitive on the market.


Customers who create their own account ("Preferred Customers") and all associates take advantage of deeply discounted "wholesale" prices. The wholesale prices average 30% below the Retail prices.


All new members get an additional 10% discount to already low wholesale prices on all products they purchase within their first 10 days, starting on the enrollment date


Preferred Customers and Associates who choose to order on auto-ship, receive an additional 5% discount.


Many products are available in packages or sets of 3, which reduces the price of an individual product even further.



If you have any questions, please leave them in the 'Comments' field below or email me: julia@utmostcbd.com
In 2015, I had to leave my 20-year career in Software Development to stay home and take care of my son, who has disabilities. I started my own online marketing business. Soon after, I was diagnosed with Hashimoto's autoimmune disease which caused me brain fog, fatigue, insomnia, impaired short-term memory, and inability to focus and concentrate on my work. In August of 2018, I discovered CTFO and its amazing CBD oils, which helped me by eliminating these symptoms. I became CTFO's loyal customer and returned to work on my blog https://livewealthyretirement.com with even more energy. Since I tried and fell in love with many CTFO products, I started naturally suggesting them to friends with ailments and eventually decided to put more force into promoting CTFO products as an associate, building my own team, and thus adding another stream of income using this risk-free work-from-home opportunity. Today, I'm an Executive Manager and a leader of close to a hundred members team. I invite you to join us and offer my personal support and mentorship in building your home-based business.